Dawn to Dusk inc
---

Tete Swing
---
Dawn to Dusk inc. designed this swing for many years of comfort and enjoyment. It has a curved back and contoured seat for maximum comfort. It also has cut outs in the little table to fit most beverages.
You can purchase a full size set of plans for this product. These plans include a complete detailed list of materials as well as in depth instructions for processing and assembly of your swing. They also include drilling diagrams and full size drawings of every part that is not a straight cut. All you have to do is cut out the paper diagrams of the parts. Each cut out diagram tells you what it is made out of as well as any drilling specs it may need. So there for it makes it very easy to process. Just cut out the paper templet, trace it onto the lumber and process. Its that easy.
Although the plans describe how to make the brackets for the seat hangers, you may also purchase the custom made "u" brackets that are made specifically for this product.
YOU CAN NOW PURCHASE THESE PLANS IN DOWNLOAD FORM! The download form is in pdf format. They were created using the free version of Google Sketchup. This is a 3D drawing program. The plans show every detailed description and 3D photo to create each part and assemly. It is designed so most novices can easily understand and be able to accomplish this project.
---
You may order using Paypal by clicking on the appropriate buttons below. If you wish to mail a check or money order, you may do so by following the instructions below.

Downloadable plans
Try a free set of downloadable end table Plans
Free end table plans
Plans for purchase Octoagon Picnic Table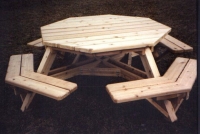 Square Table With Backs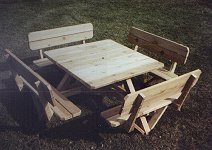 Bench Swing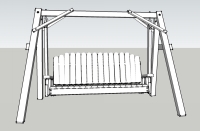 | More to come...

Full size plans
Tete-a-Tete
---




Downladable Tete Swing plans......................$9.95
Full size Swing plans without custom brackets..........$12.95
Full size Swing plans with custom brackets...............$26.95


Or you can send you check or money order to the address below. (please allow 4-6 weeks for delivery.)




Dawn to Dusk inc.

9393 Elton hwy

Tipton, Mi. 49287

ph (517) 431-2373




please state the mailing address as well as which set of plans you are ordering.



---
If you have any questions, feel free to email Phil